Or so it seems to be so that Vic Mignogna would have that name.
I'm sure you've heard of him or heard his voice somewhere. He's the main character of many shows
Full Metal Alchemist
and
Kekkaishi
he even started out playing a minor bad guy in Yu Yu Hakusho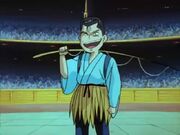 that was some time ago...
Now he's even started monopolizing his talent by singing the English translations of anime openings and endings.
He sung the opening of DNAngel - True Light
Does it sound better than the Japanese?
And DB Kai (Yes you have to watch it again ><)
Do you think it lives up to the catch Japanese version?
AND Ouran Host Club!
Vic only did this one for fun, he wrote the lyrics and only sung it for the fans. The official one is sung by another person.
>< He's taking over the otaku world for FUN ><
What about One Piece?
Yes he's taken over one piece!
Need I say more? He's going to rule the Voice Acting world in America!
These videos are probably just the tip of the iceberg!